System Adapters and Accessories
Specialty Adapters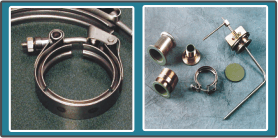 These specialty adapters allow the transition from PSP® duct to a wide range of threaded or other flanged piping systems. Adapters are available for male or female NPT threaded pipe, KF flange pipe, and Swagelok® tubing. For example, the Swagelok® adapters transition from 2" PSP-EZ™ to either 1/4",3/8", 1/2", or 3/4" threaded tubing. In addition, adapters are available for the installation of Dwyer pitot tubes and sprinkler heads.

Cast Rings
Available in stainless steel, cast rings come standard on 4" to 12" diameter duct sizes. The notable features of these rings are uniform size, enhanced bosses, and cast edges which provides improved joint alignment, more efficient mechanical force, and more sanitary appearance. All 14" diameter and larger duct are manufactured with companion angle rings.
Fab-Tech Flange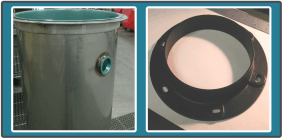 Also available for PSP® duct is the Fab-Tech flange,a specialty 2" and 3" diameter tap. Installed at the factory or in the field, this tap allows for connection of 2" and 3" diameter PSP-EZ™ duct as well as a wide variety of specialty adapters.